Pokemon Card Game Club – Sundays
Join us for our Pokemon Card Game Club every Sunday! (check for cancellations on our Facebook page)
Time: 4pm (sharp)-6:30pm. Sign-ups begin at 3:30pm.
Admission price: Free!
All ages are welcome to attend. Kids ages 12 and under must be accompanied by a parent. No Drop-offs please.
Beginner friendly! Bring a Deck (or purchase one at the store! Please call ahead to check on product availability)
The doors to our "red room" are open to all, and we have fostered a friendly group of regulars, willing to help new players if they have questions.
Please contact Sorana:  sorana@thatse.com with any questions or concerns about this event.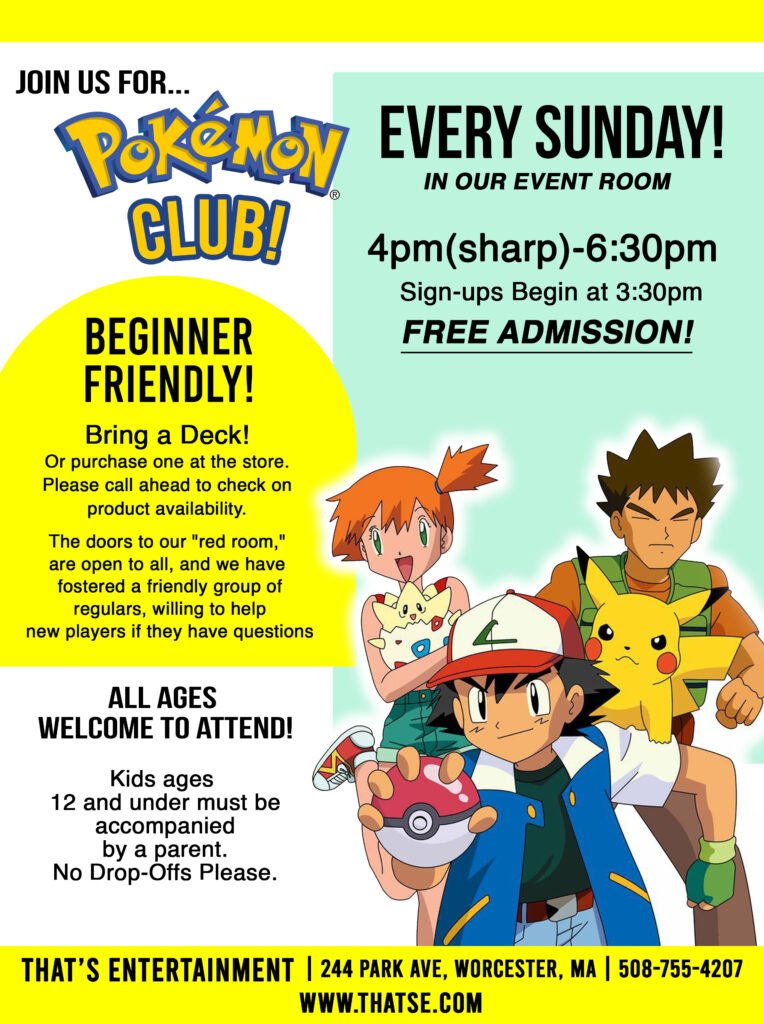 Share This!

---
That's E on Facebook
Despite issues with sending out our newsletter this week, our Free Board Game Demo is a success! Thank you to everyone who shared our post!! This is the first board game demonstration in the new space!! There are still spots open if you're interested in trying out a game! The demo will run until 6pm!
...

See More

See Less
Facebook.com/ThatsE
---
@ThatsE on Twitter
Call now to sign up to play one or more board games at our Free Board Game Demo this Saturday, Nov. 5th! Each table will have a teacher who will show you how to play! 508-755-4207. Lots of spots still open! #boardgames #tabletopfun pic.twitter.com/FA4s…
---
Latest on Instagram
---