Fitchburg Employee Picks: Trade Paperbacks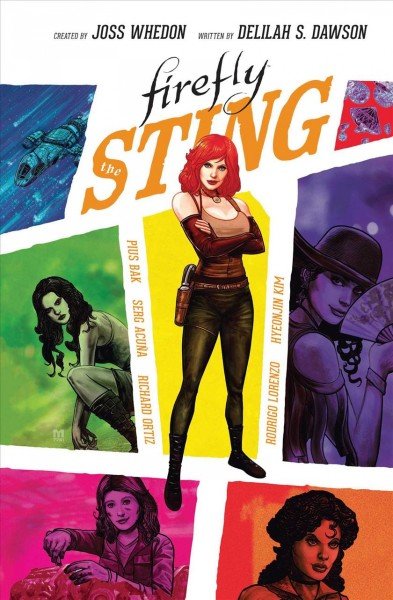 Firefly – The Sting – $19.99
Saffron unites the women of the Serenity crew to join her on a heist in this all-new original FIREFLY graphic novel.
Saffron — the enigmatic rogue who captured the hearts of FIREFLY fans worldwide, as well as the heart of Capt. Malcolm Reynolds — returns to the Serenity. But this time, she's got no time for Mal, as she's there to recruit the women of the ship to join her on a heist that has personal stakes for all involved.
New York Times Bestselling writer Delilah S. Dawson (Sparrowhawk, Star Wars: Phasma), along with a team of artists including Pius Bak, Rodrigo Lorenzo, and Taj Tenfold, enter Joss Whedon's FIREFLY to reveal an untold chapter of the fan-favorite saga.
Legend of Korra – Ruins of the Empire Part Two – $10.99
What will it take to stop a war?
King Wu's dreams of peacefully transitioning the Earth Kingdom into a democracy are in danger when Commander Guan throws his political hat in the ring, hoping to subvert the new system from the inside out. But playing fair was never part of his plan; Guan and Dr. Sheng are using terrifying new technology to cement Guan's win! In a desperate attempt to save the Earth Kingdom from falling back into the dark days of conquest and empire, Korra and Kuvira convince an old friend to return and take the former commander on in the polls. But will it be enough?
Written by series co-creator Michael Dante DiMartino and illustrated by Michelle Wong (Goosebumps: Download and Die), with consultation by Bryan Konietzko, this is the ultimate continuation of the beloved television series!
The best-selling Spectrum series continues with this lavishly produced 26th-anniversary annual. Spectrum is the premier showcase for imaginative fantastic arts in the book, comics, film, horror, illustration, sculpture, conceptual art, fine art and videogame genres. With exceptional images by extraordinary creators, this elegant, full-color collection showcases an international cadre of creators working in every style and medium―both traditional and digital. It features more than 600 works by over 330 diverse visionaries, including Alex Alice, Brom, Rovina Cai, J.A.W. Cooper, Jesper Ejsing, Ki Gawki, Annie Stegg Gerard, Donato Giancola, James Gurney, Tyler Jacobson, Vanessa Lemen, Jeffrey Alan Love, Mark Newman, Victo Ngai, Greg Ruth and Yuko Shimizu. Spectrum 26 continues the freshness and excellence that was established more than a quarter-century ago.
The mission of Spectrum is to promote the fantastic arts and provide an annual showcase for contemporary artists. The collection exists to honor the imaginations of very special artists who delight in helping us see the world in a wonderfully different light. It's our job to help them reach a wider appreciative audience.
Share This!

That's E on Facebook
GIVE SOMEONE SPECIAL A THAT'S ENTERTAINMENT GIFT CERTIFICATE, A PERMISSION SLIP TO HAVE FUN!
Did you know you can purchase That's E Gift Certificates in any amount, AND they NEVER expire?
You can purchase them on our website at www.ThatsE.com,
OR at this direct link: thatse.com/gift-certificates/
Please place your online gift certificate orders no later than Friday, December 15th in order to receive them on time for Christmas!
And you can purchase them in-store right up until 4pm Christmas Eve, Sunday, Dec. 24th!
#thatsentertainment
#giftcertificate
#toystore
#cardshop
#boardgames
#videogamestore
#recordstore
#worcesterma
...

See More

See Less
Facebook.com/ThatsE
---
@ThatsE on Twitter
Call now to sign up to play one or more board games at our Free Board Game Demo this Saturday, Nov. 5th! Each table will have a teacher who will show you how to play! 508-755-4207. Lots of spots still open! #boardgames #tabletopfun pic.twitter.com/FA4s…
---
Instagram
---
---