Retro & Current Gen Video Games
Video Games & Systems!
At That's Entertainment we hope to be your go-to source for retro video game accessories. We have a wide variety of controllers, AV cables, power cords, chargers, and other products for your NES, SNES, Gamecube, N64, Playstation One, Genesis, Nintendo DS, and other gone-but-not-forgotten retro systems. Many of us have old consoles sitting around collecting dust because we've lost a power cord, or wore-out that finicky joystick on our N64 controller. At ThatsE we've got brand new (and used, original) replacement products so you can dust off that old console, and play the games from your childhood. Whether it's Frogger, Metroid, or FFVII, we've got what you need to scratch that itch.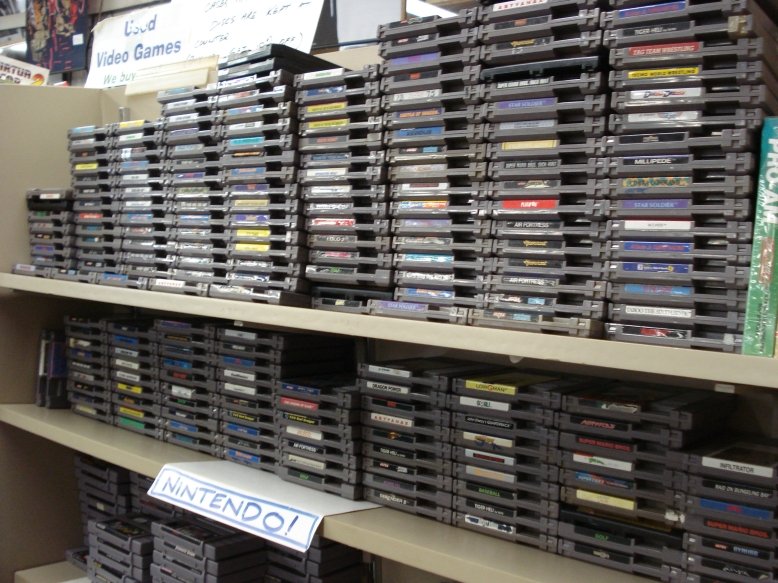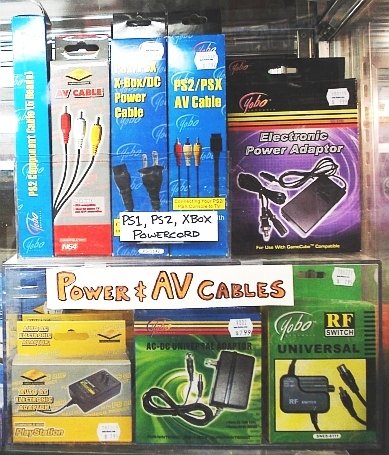 One of the largest growing markets over the last ten years has been our used video game department. As the video games of the 1980's and 1990's get scarcer the collectible market increases. People are nostalgic for the games they played when they were younger and now want to share the experience with their children and pass on these classic games to the next generation. Characters like Mario, Sonic, Zelda, etc… are timeless and companies are still producing new games for the modern systems featuring these classic characters.
We try to carry an assortment of almost every type of popular home video gaming console and handheld console for the last forty years. From vintage cartridge based consoles and games like Atari 2600, Nintendo Entertainment System, Sega Genesis, Super Nintendo, Nintendo 64, Nintendo Gameboy, etc… to modern systems like Playstation 3 and 4, Xbox 360 and Xbox One, Nintendo Wii and Wii U, PS Vita and 3DSXL and everything in between.
Sell Your Games To Us!
Sometimes, no matter what you do, an old system is just dead, and there's no bringing it back to life (cue the bagpipes). Don't worry, at That's Entertainment we sell brand new systems capable of playing your old games. The Retron One plays NES games, the Retron Two plays NES and SNES games, and the Retron 3 plays NES, SNES, and Genesis games. If you just want a system to play the classics on, these are the systems for you. If you're a collector, however, and want the real deal classic consoles instead, we carry used versions of those too, though sometimes certain retro systems can be difficult to keep in stock. Give us a phone call to see if we have what you're looking for.
Most of our used stock comes from purchasing from the public. If you don't see a game on our shelves please check back, our collection is constantly evolving depending on which games we purchase on a daily basis.
When we buy from the general public we factor in condition of games, completeness, and how many copies we currently have in stock. We pride ourselves on trying to have the best priced/ best condition games locally available.
That's E on Facebook
The votes are in for our Yuan-Ti Abomination Miniature Painting Contest!!
All of the entries were truly beautiful, from both the beginners and the pros!
Here are the winners of the Fan Vote:
1st Place goes to: #17 Evan F.! Congratulations, Evan! You won $50 in store credit! Excellent job!
2nd Place goes to: #4 Ethan B.! Congratulations, Ethan! You won $35 in store credit! Nice work!
3rd Place goes to: #6 Dylan T.! Congratulations, Dylan! You won $25 in store credit! Great job!
Winners of the Staff Vote:
1st Place goes to: #13 Michael K.! Congratulations, Michael! You won $50 in store credit! Beautiful work!
2nd Place goes to: #14 Sara A.! Congratulations, Sara! You won $35 in store credit! Excellent work!
3rd Place goes to: #3 Tenor M.! Congratulations, Tenor! You won $25 in store credit! Awesome work!!
Many thanks to all the participants! Please see all the submissions and the winners in the video. Please note that the 2nd and 3rd prize amounts I mentioned were incorrect. The correct prizes are listed above.
To the winners, please stop in to collect your prizes at the front counter! Congratulations to all of you, and we look forward to seeing your next amazing creation at our next miniature painting contest, which we will announce after the holidays.
Sincerely,
Sorana Gatej (Guest Experience Manager)
...

See More

See Less
Facebook.com/ThatsE
---
@ThatsE on Twitter
Call now to sign up to play one or more board games at our Free Board Game Demo this Saturday, Nov. 5th! Each table will have a teacher who will show you how to play! 508-755-4207. Lots of spots still open! #boardgames #tabletopfun pic.twitter.com/FA4s…
---
Instagram
---
---