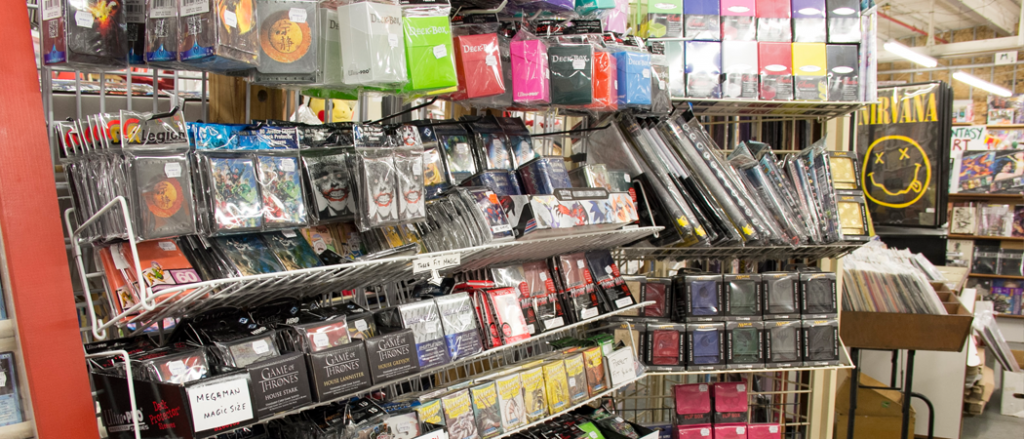 At That's Entertainment we carry an extensive selection of Magic: the Gathering products, including booster packs, booster boxes, fat packs, intro decks, grab boxes, single cards, and more. We also carry sleeves, deck-boxes, binders, and other accessories.
In our display case, you'll find a section for standard-legal constructed staples, as well as sections for older cards, including both Modern and Legacy staples. (Cards in our display case are sorted alphabetically, but if you can't find something, ask for Nate, and he may be able to dig it up for you.)
We have binders for Standard-Legal Blocks behind the counter, and boxes of play-sets containing many of the highly-sought commons and uncommons for constructed magic.
We have rare boxes (organized by color). Every card inside is just a buck! Feel free to ask at our front counter, and we'll provide you with one to dig through. It's difficult to say what you'll find in these things, but there are often buried treasures in there, well worth your time and effort to unearth.
We have mixed common and uncommon boxes (organized by color) and every card inside is just a dime! These boxes contain primarily cards from the last few sets, but older cards are in there too, and we're happy to let our customers rifle through and look for things.
One of our more exciting deals is our Grab Boxes. These boxes contain roughly 800 mixed commons, uncommons, basic lands, and tokens from various sets, as well as five rares and five foils. The whole package only costs $9.95, but due to popular demand, they are limited to one per customer. We do our best to keep these in stock, but sometimes they sell out, so get yours while you can.
We also buy Magic: the Gathering cards. Feel free to give us a phone call, and ask for Nate. He can tell you what we're looking for at present, or if the cards you have are something we'd be interested in purchasing. The MTG market is in constant flux, and so is our inventory, so please call ahead and check with him before you come in.
That's E on Facebook
The votes are in for our Yuan-Ti Abomination Miniature Painting Contest!!
All of the entries were truly beautiful, from both the beginners and the pros!
Here are the winners of the Fan Vote:
1st Place goes to: #17 Evan F.! Congratulations, Evan! You won $50 in store credit! Excellent job!
2nd Place goes to: #4 Ethan B.! Congratulations, Ethan! You won $35 in store credit! Nice work!
3rd Place goes to: #6 Dylan T.! Congratulations, Dylan! You won $25 in store credit! Great job!
Winners of the Staff Vote:
1st Place goes to: #13 Michael K.! Congratulations, Michael! You won $50 in store credit! Beautiful work!
2nd Place goes to: #14 Sara A.! Congratulations, Sara! You won $35 in store credit! Excellent work!
3rd Place goes to: #3 Tenor M.! Congratulations, Tenor! You won $25 in store credit! Awesome work!!
Many thanks to all the participants! Please see all the submissions and the winners in the video. Please note that the 2nd and 3rd prize amounts I mentioned were incorrect. The correct prizes are listed above.
To the winners, please stop in to collect your prizes at the front counter! Congratulations to all of you, and we look forward to seeing your next amazing creation at our next miniature painting contest, which we will announce after the holidays.
Sincerely,
Sorana Gatej (Guest Experience Manager)
...

See More

See Less
Facebook.com/ThatsE
---
@ThatsE on Twitter
Call now to sign up to play one or more board games at our Free Board Game Demo this Saturday, Nov. 5th! Each table will have a teacher who will show you how to play! 508-755-4207. Lots of spots still open! #boardgames #tabletopfun pic.twitter.com/FA4s…
---
Instagram
---
---